Eco-Justice
Pitt Street Earthweb Team
In 2015 Pitt Street established an "Earthweb Team" to provide a focus for congregational activities around ecology including climate change.
The Team decided to work in three key areas:
Congregational energy use:
We are now on 100% greenpower through Powershop.
A number of energy-saving measures have been implemented, including for church lighting.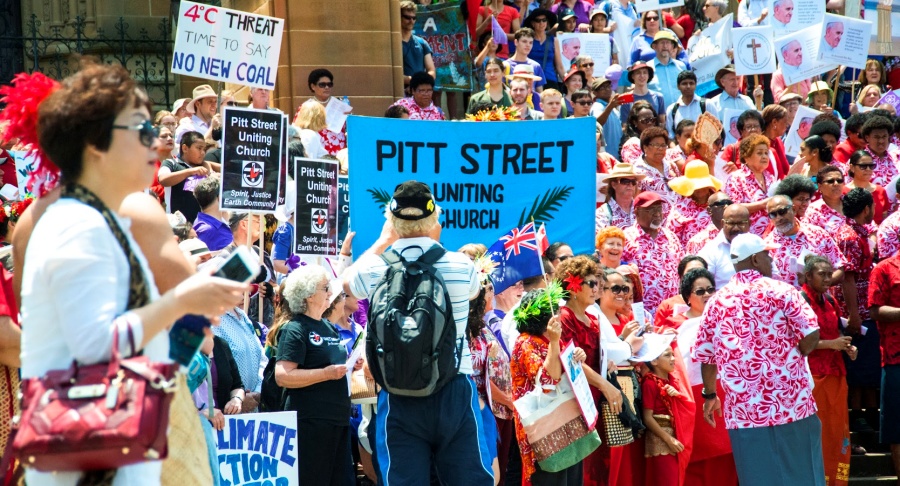 Congregational awareness and education:
We have set up an ecology table with a wide range of resources to use or books to borrow.
A congregational member, Sheila Walkerden, was invited to prepare an Earth banner, which is NOW permanently hanging in the Peace Chapel.
Pitt Street has contributed to liturgies for the Season of Creation and World Environment Day.
Engagement with wider faith and community group activities:
We have hosted an ecumenical prayer service prior to the People's Climate March in 2015, and a Uniting Church service prior to the Students' Climate Strike in 2019.
The Earthweb team has organised "letters'n'lunch" for letter writing to MPs prior to Federal and State elections.
Pitt Street actively supports and participates in two external groups: the Uniting Church Synod' Earth Ministry, and the Australian Religious Response to Climate Change.
Pitt Street has received two Five Leaf Eco Awards for our activities including an "Eco-Worship" Award.
Uniting Church Synod (statewide) Earth Ministry
The Uniting Church has a commitment to the environment, both because social justice and the integrity of the environment are linked, and because the environment has intrinsic value. We believe that God, as the Creator of the universe, calls humanity into a relationship of mutuality and interdependence with the Creation. God's will for the Earth is renewal and reconciliation, not destruction by human beings.
We are particularly concerned about human-induced climate change. Climate change is a serious threat to the integrity of life on Earth, now and for future generations. We are especially engaged in supporting our vulnerable neighbours in the Pacific.
Uniting Earth, part of the Uniting NSW/ACT Advocacy Team, works across the church to explore how we might "confess the Lord in fresh words and deeds" (Basis of Union, 11) in light of our developing awareness of the place of humans in Creation. The project includes courses and other educational initiatives, resources for churches, retreats, advocacy work and more.
Contact Uniting Earth at unitingearth.org.au.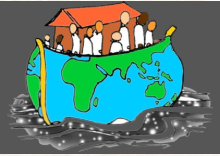 Australian Religious Response to Climate Change (ARRCC)
ARRCC is a multi-faith, member-based organisation of people from around Australia who are committed to taking action on climate change. Members represent a variety of religious traditions.
ARRCC believes that as people dedicated to the common good, inspired by beliefs and energized by spirituality, people of all faiths can and should be at the forefront of creating a safe climate. While celebrating the uniqueness of different traditions, ARRCC members stand together in working for an ecologically and socially sustainable future.
ARRCC acknowledges the special place that Aboriginal culture and spirituality have in upholding care for the Earth. ARRCC believes that we all have much to learn from the intimate connection our Aboriginal brothers and sisters have to country.
Pitt Street is a member of ARRCC, and we encourage you to become involved. Go to the ARRCC website for resources, future events, and how to become involved in practical actions on climate change.