Pitt Street Cultural Foundation
ABN 69 451 789 239
Preserving our Heritage. Reimagining our Future.
The Pitt Street Cultural Foundation is a tax-deductible public fund for cultural activities in the church building 'for the purpose of enriching the social and spiritual life in the city.
​
Your donation will help us to prepare and implement a conservation management plan for capital works that will preserve our beautiful heritage church; strengthening our identity as a gathering place for the arts, inclusiveness, spirituality and justice in the City of Sydney.
​
We established the Pitt Street Cultural Foundation in August 2017 as a vehicle to receive tax-deductible donations. The founding trustees are Rev Dr Margaret Mayman, Mr Paul Cotterell, Mr Ben Skerman, Dr Patricia Curthoys and Dr Michael Dudley. The Cultural Foundation provides for the Church Council and the trustees to administer a public gift fund: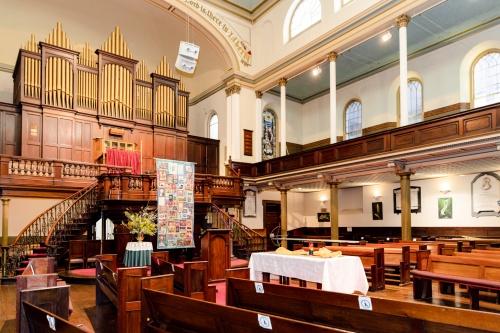 …to assist the congregation of Pitt Street Uniting Church to carry out the following activities namely to:
i.    Perform music in, host art exhibitions in and generally encourage community, performing and visual arts in the Church building at 264 Pitt Street, Sydney for the purpose of enriching the social and spiritual life of the city.
ii.   promote education in and the enjoyment of music and the arts;
iii.  provide facilities for the rehearsal, display and performance of music and the arts;
iv.  maintain, renew and develop the Hill and Son pipe organ, the Bosendorfer grand piano and Church building for the promotion of music, arts and community well-being;
v.   collaborate with music and arts organisations.
The second step was to seek approval from the Australian Government. Pitt Street Cultural Foundation was endorsed as a deductible gift recipient and is listed as a public fund on the Register of Cultural Organisations effective from the 5 February 2019.