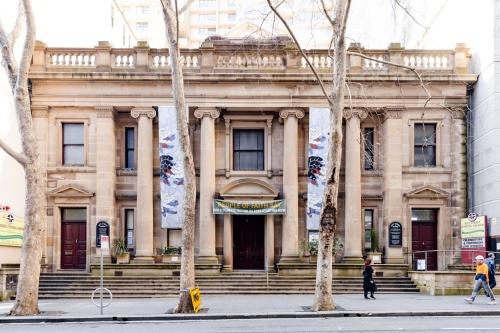 Statement of Significance
The Pitt Street Uniting Church has had a significant role in the development of the social and religious life of Australia. It has always represented a pioneering and socially aware face to the community. It architectural design is significant as arguably the finest example of Neo Classicism in Australia. It is a fine example of notable architect John Bibb's work. It was the first Independant Church in Australia. It has associations with notable local figures, including David Jones and James Fairfax.
Description
The exterior of the church is a fine example of the late Georgian Classical design. Standing two storeys high, the sandstone facade to Pitt Street is symmetrical, with monumental ionic columns supporting a ballustraded parapet. Columns flank the pedimented windows and central door on the ground floor with windows lighting the galleries above. Access to the building is via a shallow flight of stairs and narrow podium. The remaining walls are of brick. Galleries supported on cast iron fluted columns, run around the interior walls. The central pulpit and platform are approached by twin cast iron railed stairs. All the fittings are of local cedar (National Trust of Australia (NSW), 1977).
Construction years: 1841-1846
Organ gallery and vestries added: 1857
New central pulpit and platform installed, north side extended and front façade remodelled: 1857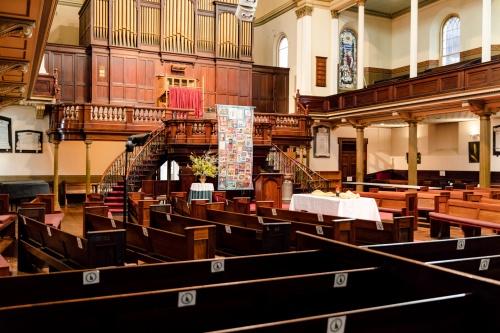 There have been several attempts to demolish the building. Restoration work was carried out in the early 1980s with a grant from the Heritage Council of New South Wales and again in 1989 and 1996.
Source: NSW Office of Environment and Heritage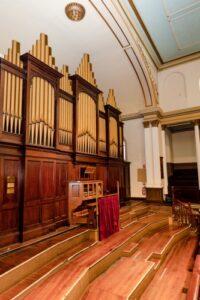 Hill and Son Organ
The fully restored organ, built in 1910, is a most significant instrument. This organ, along with the Sydney Town Hall organ, are the only examples with a tubular pneumatic action surviving in Australia. It is one of the largest Hill organs surviving unaltered in the world.
Concert Grand Piano
The piano is a nine-foot Bösendorfer Concert Grand which was a one-time studio piano for the Ten Television Network.